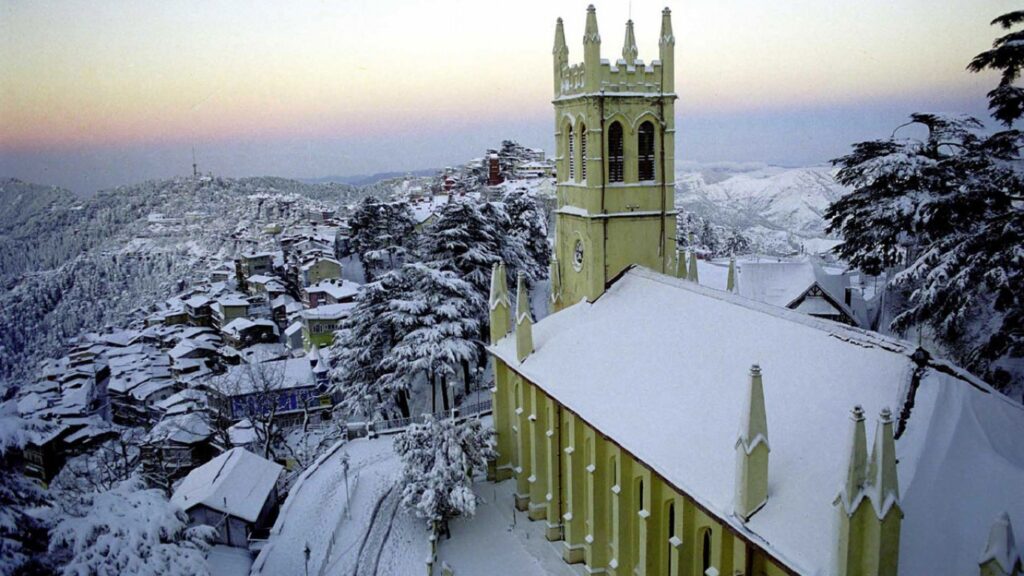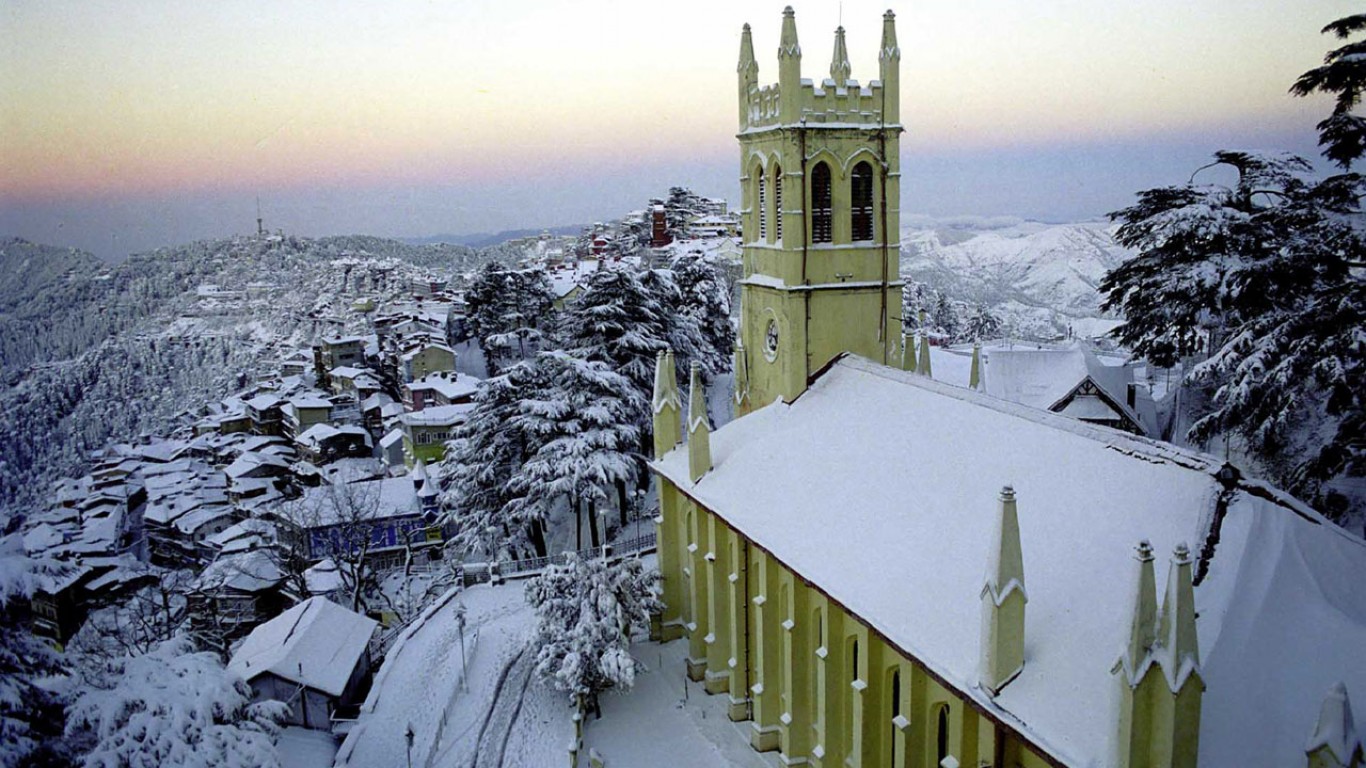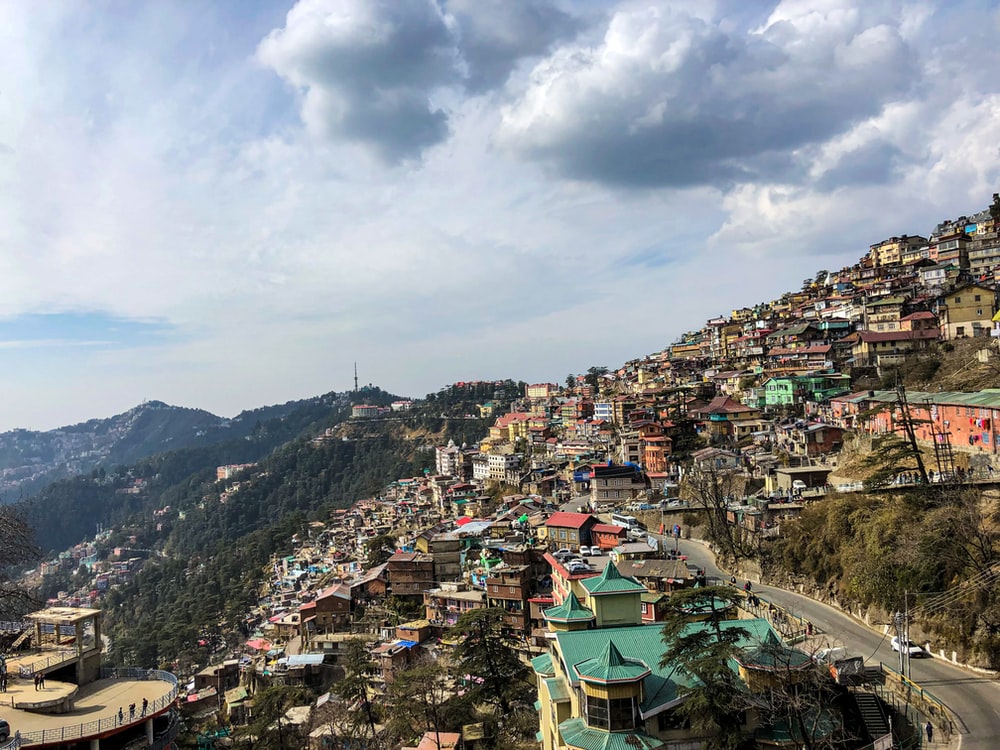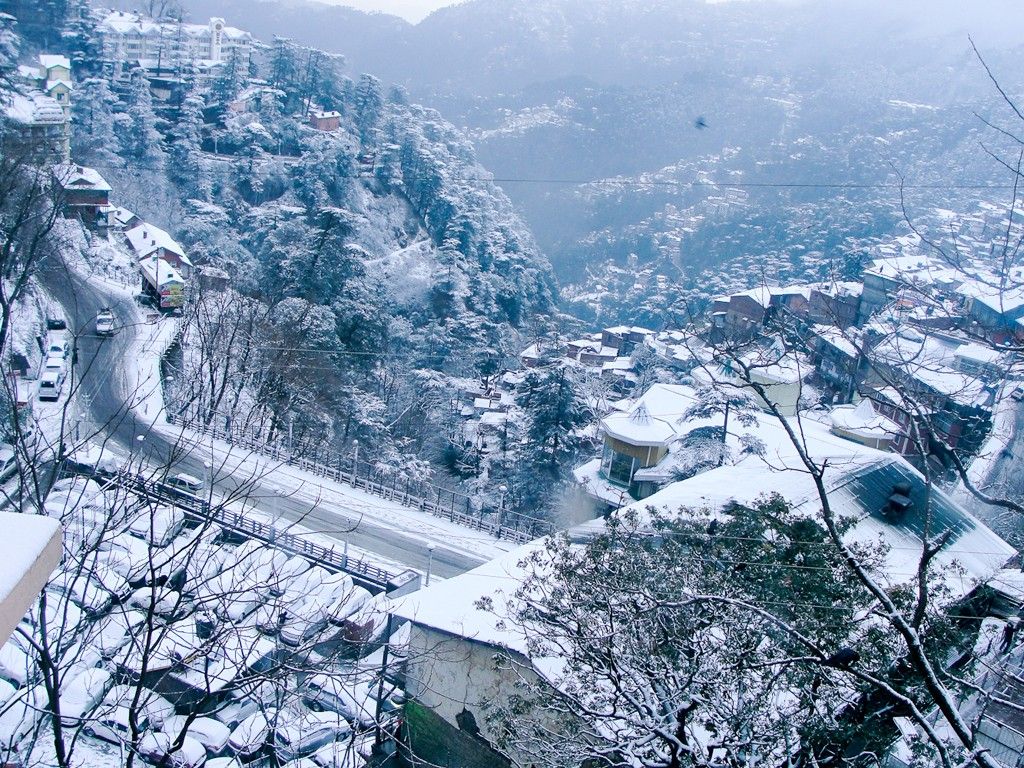 The Amazing Hill Station❤️️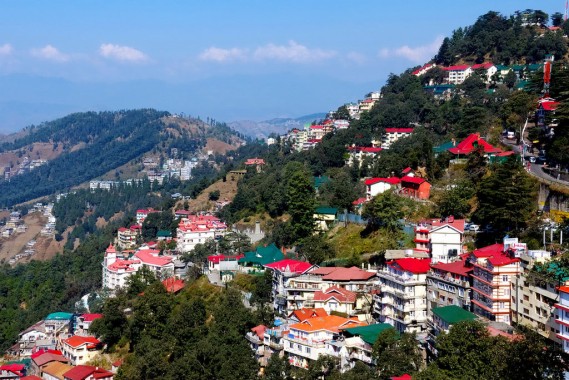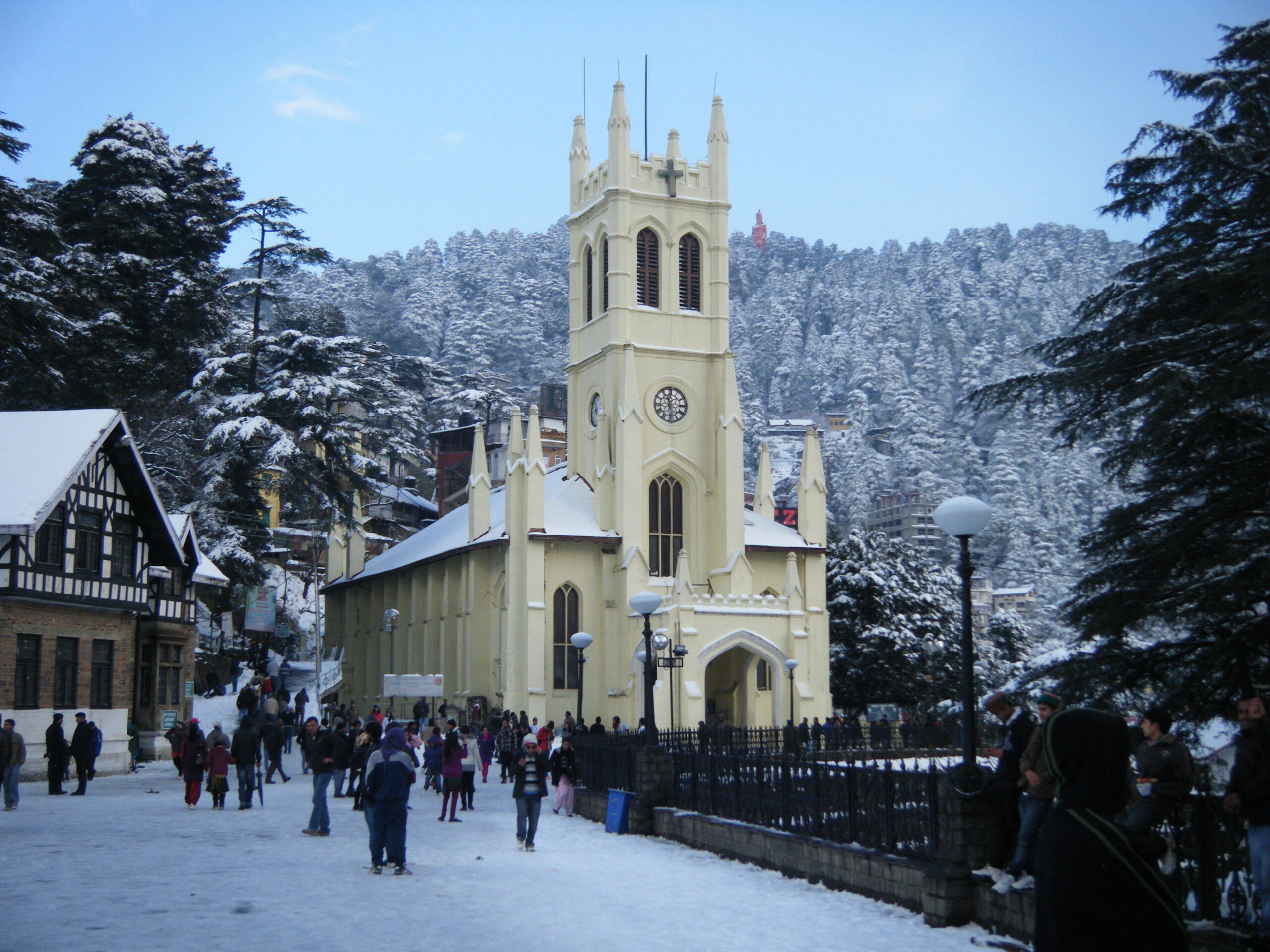 Shimla hill station is still the colonial summer capital (resort) to which British used to retreat in when heat of Indio-Gangetic plains used to become unbearable. Be it grey-stone work of Vice Regal Lodge, or Gaiety Theater putting neo-gothic architectural excellence, the beauty of building seem to come alive and not only staying in eyes of beholder. The Elizabethan style mixed and merged with different other forms in buildings like Ellerslie, Christ Church, Gorton Castle, Wood Ville, etc are a must-see.
Spirits of that past attracts enthusiasts from India as well as abroad when this hill city has been made capital of state of Himachal Pradesh after India got its Independence. However, this is not the sole reason for why to come to Shimla. Smooth slopes of Snow-draped mountain peaks are absolute invitation to the skiers by spirit or profession. While camping and trekking trips, doing yoga facing the mild rays of waking sun might become the other reason. And this list is sure to go long, once tourists get to know what all they could do to make best time in Shimla. The way it is nestled at a maximum altitude of 2200 m in the foothill of Himalayas, traveling Shimla is a perfect course to get to view this heaven in summer; and also in winter that brings a different glory altogether.
Named after Shyamala Devi, an incarnation of Goddess Kali, Shimla has emerged as a well developed city. Yet, the touch of Nature could be felt everywhere one goes too. The beauty of hill could be summarized by uttering the name of this place. It is no wonder why film Industry took to this city when shooting for some place abroad.
Shimla tourism encompasses a complete experience, where entertainment, culture, sights like British architecture reminiscent of colonial era, temples and palaces could be spotted interspersed on its landscape. There are many exciting activities tourists can add to their itinerary and Shimla tour packages. Camping is a very popular activity that people choose to do here, but only those who have sufficient holidays in hand.
There are few popular adventure-activities organizers who schedule days with activities like rock climbing, Rope walking, valley crossing, forest treks, rappelling, etc. For those who love to zip-zap-zoom on snow, Kufri serves all ski and ice skating intentions. Another exhilarating experience of adrenaline pumping is paragliding and hand-gliding from Bir and Billing peak in Kangra Valley.
Physical endurance is put to test on cycling and mountain biking trips that take to different routes to or from Shimla; a superb way to explore the beauty of hills and feel the tranquility in the air. Wildlife lovers can find their interests catered to in places like Shimla Reserve Forest Area, Chail Sanctuary, Daranghati Sanctuary and many other places that are located at some distance from the city of Shimla like in Solan, Sirmour, Kasauli, Naldehra ,Narkanda etc. Other activities are angling and golfing with time in this hill city could be made memorable.
Devbhoomi Printers
2023-09-29
Recently We visited Kerala,This is second time with TIAGO HOLIDAYS again it's memorable trip for me. From Start to End they organised very well. Amazing Hospitality, best driver and good hotel booking.
Jim Corbett with Tiago Holidays was nothing short of extraordinary. The thrill of the jungle safari, the comfort of the resort with its attentive staff and elegantly decorated rooms, and the mouthwatering, delicious food all combined to create a truly memorable experience. Our driver, Ajay, was not just a chauffeur but a gracious host, treating us with politeness and care throughout our journey. Heartfelt thanks to Tiago Holidays for making this trip so special and unforgettable.
Tiago Holidays made my Kashmir tour truly amazing. Great hotel, stunning views, and a fantastic team, especially Mr. Arun, our driver. Thank you, Tiago Holidays.
kashmanii Jwels
2023-09-23
The impeccable organization ensures a seamless experience, making it hassle-free. Notably, the rates offered are highly competitive compared to other travel companies. I thoroughly enjoyed it and eagerly anticipate planning another adventure.
Saurabh Rajput
2023-09-14
Fantastic trip for Kanatal camping ,& Tehri Uttarakhand support by tiago team.. We all really thanks to Tiago holidays for our pleasant journey. I will definitely recommend others to take their services through this company thank you, & Kudos to Team Tiago travel !
It was a nice experience during the Kerala package
I recently contacted them for my vacation planning, and it exceeded all my expectations! From the competitive prices and reliable customer support, every aspect of my experience was top-notch. I highly recommend them for anyone seeking a seamless and enjoyable travel booking process. Happy travels!
Experience was great. Stay and travel well managed by Tiago holidays
Tiagoholidays gave us best experience of Andanan islands. The whole team made our tour easy and enjoyable. Our every request was met throughout the trip. Will highly recommend Tiago Holidays if you are planning for Andaman for an amazing experience all together. Thank you

At Tiago Holidays, we invite you to discover the extraordinary. As a dynamic and rapidly growing travel portal in India, we specialize in curating exceptional journeys. From romantic Honeymoon packages to thrilling Jim Corbett tours, enchanting Nainital getaways, spiritual Chardham yatras, and an array of Domestic Destination packages, we offer a diverse range of experiences to cater to all your travel desires.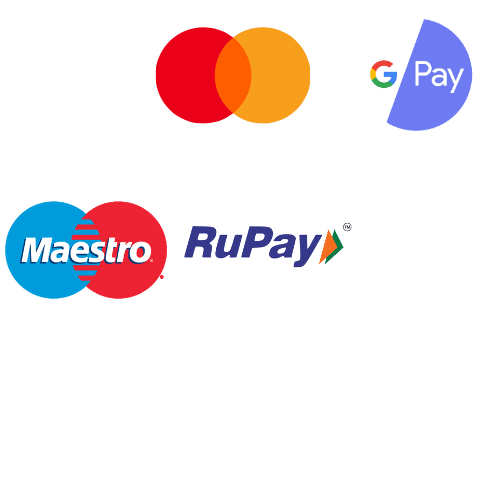 © All rights reserved 2023 by Tiago Holidays.